2023 Concert Update Announcement!
We are proud to welcome back The BriTins on Friday December 15th 2023! The doors will open at 6:30pm with the concert starting at 7:30pm. The venue once again is Memorial Hall located at 72 7th St, Racine, WI 53403.
We have started mailing tickets out, if you have any questions please call 262-833-0320
We look forward to seeing you again at our event!
If you would like tickets and have not been a supporter this year please contact us.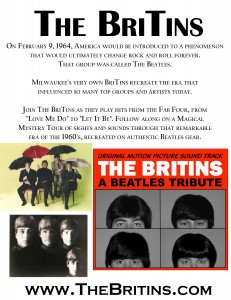 We ask that if you receive a call that you please consider supporting locally the many great programs in Racine and throughout the County.
~~~~~ PLEDGE MAILING INFO ~~~~~
Several persons have contacted the Racine Police Association to verify our mailing address.  Donations are mailed to:
Racine Police Association
PO Box 402
Racine WI  53401-0402
Or you can submit your donation via PayPal right here on our site.  Please include your pledge number on your PayPal payment.